<! NEW CSS NAVBAR> <! END CSS NAVBAR> <! slow day>
<! end slow day> <! amazon6 header ad old location> <! old freebs timer location> <! old quicklaunch location Squicklaunch >
<! adbanner template> <! Top of showthread, 2 468 banners> <! Amiko A3>
<! adsense>
<! Amazon4 removed>
OpenBox S10 Manual PID entry using ALi Editor, a photo guide
02-26-2011, 10:17 AM
(This post was last modified: 05-04-2011 09:49 AM by T134. Edit Reason: N/A)
Post: #1
T134
FridgeFTA Staff


Posts: 26,982
Joined: Apr 2009

MyMood:

Thanks: 16344
20690 thank was given in 9409 posts

OpenBox S10 Manual PID entry using ALi Editor, a photo guide
Here is a quick photo guide I put together on using the ALi editor to add a channel to you OpenBox S10 TP_PROG.DBS file.
Copying the file to USB
Plug in USB drive.
Go to MENU > TOOLS > DUMP BY USB
Arrow to MISC Files then arrow down to SELECT & DUMP and press OK
Press green button to add TP_PROG.dbs
Press yellow button to copy the file to your USB drive.
Loading/saving with Ali Editor
IMPORTANT: YOU MUST CHANGE THE .dbs EXTENSION TO .abs IN ORDER FOR THE ALi EDITOR TO PROCESS THE FILE. AFTER WORKING WITH THE FILE YOU MUST NAME IT BACK TO .dbs TO PROPERLY LOAD IT TO THE OPENBOX. FAILURE TO DO SO WILL RESULT IN FLASH FAILURE. USE AT YOUR OWN RISK!!!
Step by step ALi Guide
In ALi Editor go to FILE > OPEN. The window pops up, select "open bin file (abs)" from the bottom dropdown, select your TP_PROG file that you renamed with the .abs extension and open.
It will ask you which database to use, select the USER database as this is where your channels are.
At the top left expand "all services" and "satellite information". Your satellites appear.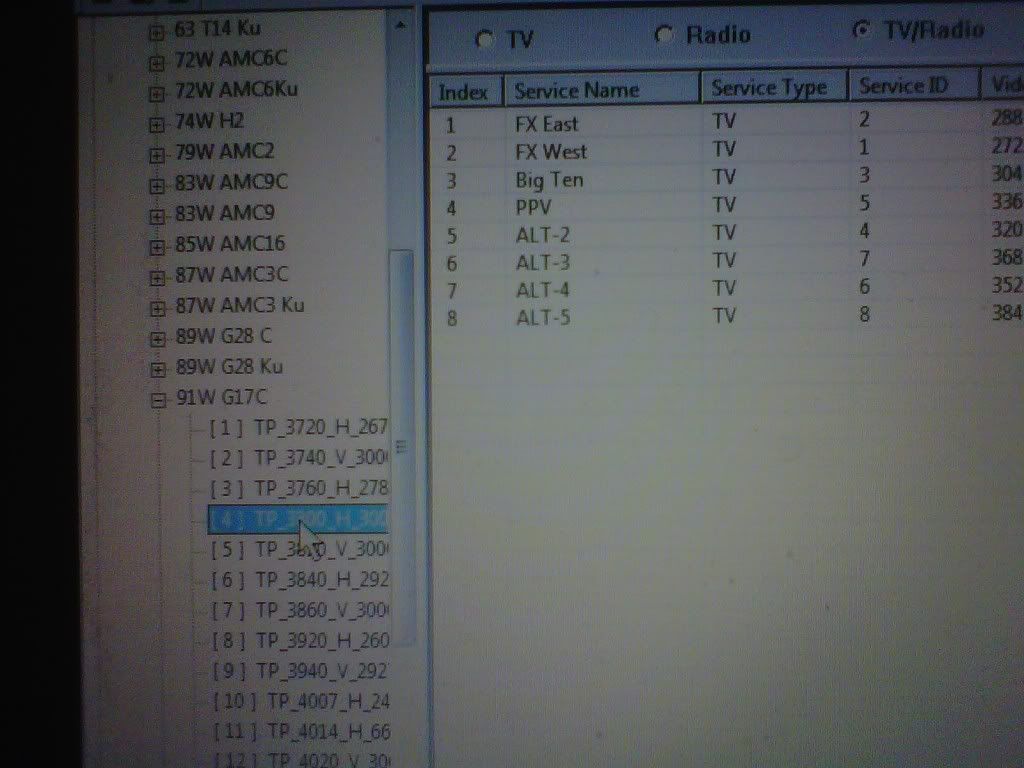 Expand the satellite you want and the transponders appear. Select the transponder to add the channel to. Installed channels if any appear in the right window.
Right click in the right hand window anywhere below the existing channels. Select "insert channel"
Fill in your new channel information in the popup. Don't forget to set audio channels as "stereo" as the default is "left". Also set the H264 flag if it is a H264/MPEG4/DVB-S2 channel you are adding.
The channel appears in your list for the TP. You can move it up or down on the list by selecting it and using the + and - buttons on your computer.
To save, go to FILE then select EXPORT
Change the type to "open bin file (abs)
Save the file. Don't forget to change the extension back to .dbs before flashing to your OpenBox!!!
Flashing the file to the OpenBox is the same as reading it from it, except select UPGRADE BY USB instead of DUMP BY USB.
After flashing your channel data, turn the OpenBox off for 10 seconds using the remote control. When you turn it back on your data file has replaced the data that was in memory. Failure to turn it off then on will result in a messed up channel list until you do so.
*** USE AT YOUR OWN RISK ***
02-26-2011, 10:23 AM
(This post was last modified: 05-04-2011 09:50 AM by T134. Edit Reason: N/A)
Post: #2
T134
FridgeFTA Staff


Posts: 26,982
Joined: Apr 2009

MyMood:

Thanks: 16344
20690 thank was given in 9409 posts

RE: OpenBox S10 Manual PID entry using ALi Editor, a photo guide
If you need to add a transponder that is easy too...
Select the satellite to add the transponder to, then right click on it. Select "Add information"
A box pops up, fill in frequency, select polarity and fill in the symbol rate. There is no entry for DVB-S2 or anything, that is not needed with adding a TP to the OpenBox S10.
<! Adsense> <! Amazon1 1x728 Top of Search>